Kieashia's presence is warm and inviting. When she walked in the Carnegie Library in the Hill District to audition for the show with her two pony tails and nervous smile, I wasn't sure what to expect. But, we were blown away with just how much life this young woman had lived. We were equally taken back by her ability to weather so many storms and still have such a warm and inviting presence.
Kieashia has lived a "Whole Lotta Life" indeed, and will deliver her monologue of that title on Saturday, May 9, 2020 at the August Wilson Cultural Center.
Read a bit more about her below, and click here to purchase your tickets.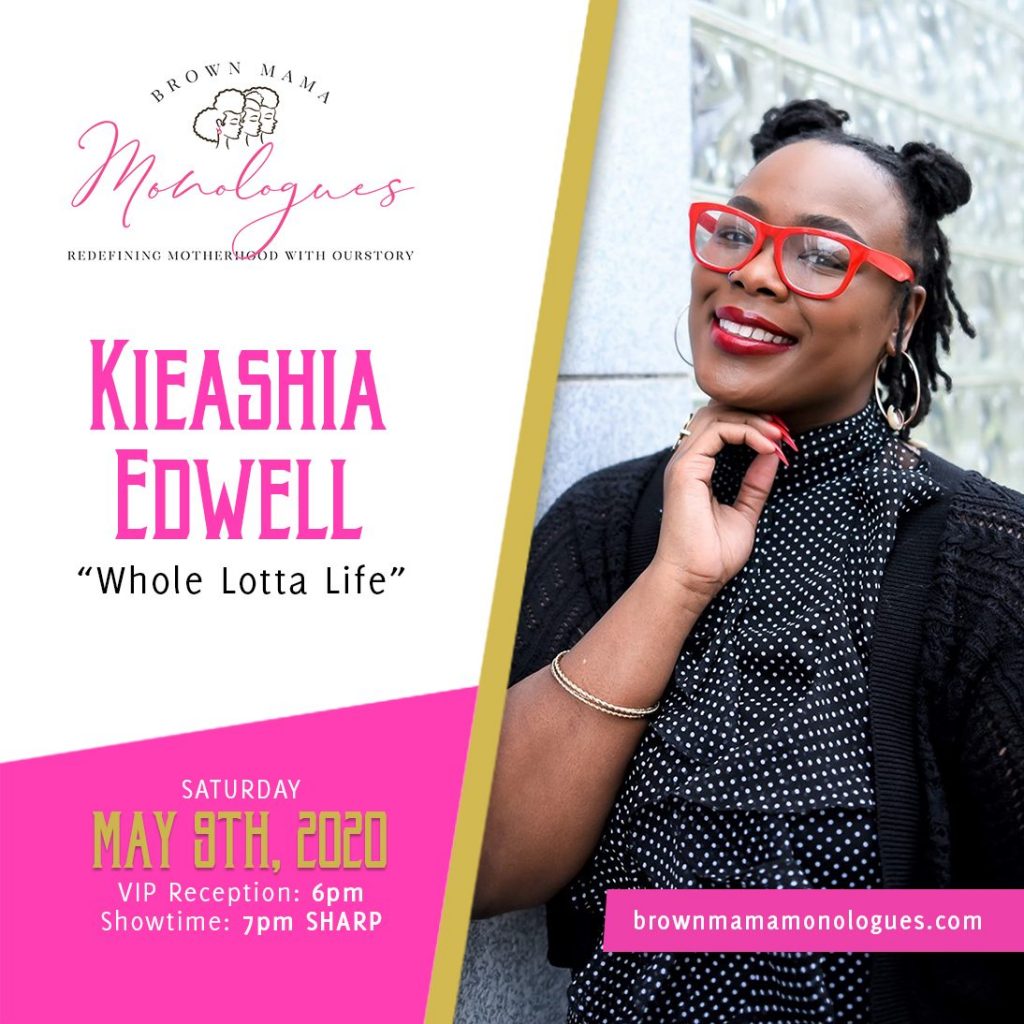 Kieashia, tell us about your monologue.
My monologue shares my journey from simply surfing, to thriving. After experiencing abuse, grief, and chronic illness, I made the decision to shift my mindset. I was determined to take back my heart, my health, and my healing to make a better life for myself and my daughter.
Who is Kieashia?
Kieashia is the mother of one daughter, Majesty Raiel who is the "Royal Light" of her life. It was during my attendance at the Robert University school of nursing that I took my first job as a private nanny and, from there, my passion for teaching the world's youngest learners grew. I soon became a Lead Teacher in a preschool, and then took the bold steps to open Room To Bloom Early Childhood Academy. I am currently earning my Birth Doula certification, and I sit on multiple boards dedicated to improving the state of early childhood education and maternal outcomes for Black women. I am also an avid reader, an incurable goofball, and a taco enthusiast.
What do you think our city can learn from The Brown Mama Monologues?
Our city can learn to value and honor the experiences of Black women. They can also learn that to improve the lives of Black women, and our children, is to improve the state of the entire city.
What will the audience gain from your monologue?
I think the audience will gain a strong sense of community and sisterhood. The raw honesty in my story is proof that vulnerability can be freedom when we are given the room to share our truth in our own voice.
What Black woman do you admire most and why?
The black woman I most admire is my grandmother Paula Day. All my life I watched her give selflessly, while leaving little leftover for herself. I have also been blessed to witness her personal rebirth after suffering tragedy and loss. Her faith has not only been her anchor during trying times, but also serves as the greatest source of her joy. She exudes a calming, thoughtful energy and has the kindest and most loving spirit. She is intelligent, funny, and cute as a button! I love her so much and thank God for her.
Where is your favorite place to go in Pittsburgh?
Anywhere authentic, delicious tacos are sold and The Carnegie Science Center.
What makes Kieashia's family special?
What makes my family special is our love of laughter. I'm a child at heart and have always valued the playful relationship I share with my daughter. Though I sometimes tire of the pranks she plays on me (LOL), I wouldn't trade it for anything in the world!
To hear Kieashia tell her heroic story about her motherhood journey, purchase your tickets for The Brown Mama Monologues today by clicking here!
We'll see you at the show on Saturday, May 9th at the August Wilson Cultural Center!