If you don't know about miracles, you'll know after listening to Leeann Shaw Younger's story.  Leeann is a local star in her own right.  People look to her and her family as a beacon for faith, unity and love.  It is no surprise that her monologue is one that will continue that legacy.
Join Leeann and our cast of 9 storytellers who will all be telling their stories of trial and tirumph in motherhood.  They take the stage on Saturday, May 4th at the Kauffman Center in the historic Hill District at 6 pm.  We look forward to seeing you there! Until then, let's get to know Leeann a little better.
Who is Leeann Shaw-Younger?
Leeann Shaw Younger is the co-founding pastor of Cityview Church on the Northside. She and her husband, Wayne, are the proud parents of Shaw, Isaiah and Kayla. Leeann blogs at https://leeannshawyounger.com/ and would love to continue the conversation with you there.
What is Leeann's monologue about?
This story is a celebration of how, sometimes, it takes a village to make a family.
If you're friends gave you a nickname, what would it be?
Let's go with "Truth Teller" because I always have something to say, whether you want to hear it or not.
What is the best piece of advice a mother has ever given you?
RELAX. Your children will pick up the skills they need in their own time. No amount of worrying will change this.
Who's monologue is your favorite this year?
I'm really inspired by Muffy's monologue. I've never heard such an honest story about such a difficult topic.
What is your favorite song?
I can't stop listening to PJ Morton's "Everything's Gonna Be Alright" from Gumbo Unplugged.
How has being a part of The Brown Mama Monologues changed you?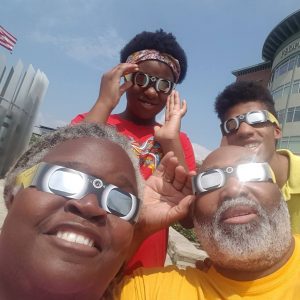 I love how we've created a safe place to take creative risks and to grow. There's a lot of competition in work, in parenting, and in life in general. This has been a great experience of succeeding by loving and supporting each other.
Why do moms need to hear your monologue?
My story is about an honest to goodness miracle. It's the kind of thing you don't think can happen in real life. But it did. I hope it encourages everyone who hears it.
Don't miss Leeann at the 2nd Annual Brown Mama Monologues! Buy your ticket today!